Description
If you own a beautiful guitar, you'll want to show it off to others. That's where your search for the best guitar wall hanger come in. These devices securely hold your guitar on a wall, allowing you to display your instrument in your living room, rehearsal space, or any other room in your home.
Our guitar wall hanger is a simple yet effective way to display or store your guitar. It is designed to hold a single guitar securely, preventing it from falling and protecting its finish from damage. The hanger is made from high-quality materials and features a sleek, modern design that will complement any décor.
To use the guitar wall mount, simply mount it on a wall using the below instructions at the bottom of the page. Printed instructions are also included with your package. The hanger has a padded yoke that cradles the neck of your guitar, and an adjustable arm that supports the body of the guitar. The arm has a rubberized coating to prevent scratches and dents.
In addition to its practical features, our guitar wall hanger is also easy to install and use. It comes with clear instructions and all the necessary mounting hardware, so you can get your guitar mount up on the wall in no time. Whether you want to display your guitar for all to see or keep it within easy reach for practice sessions, our guitar wall hanger is the perfect solution.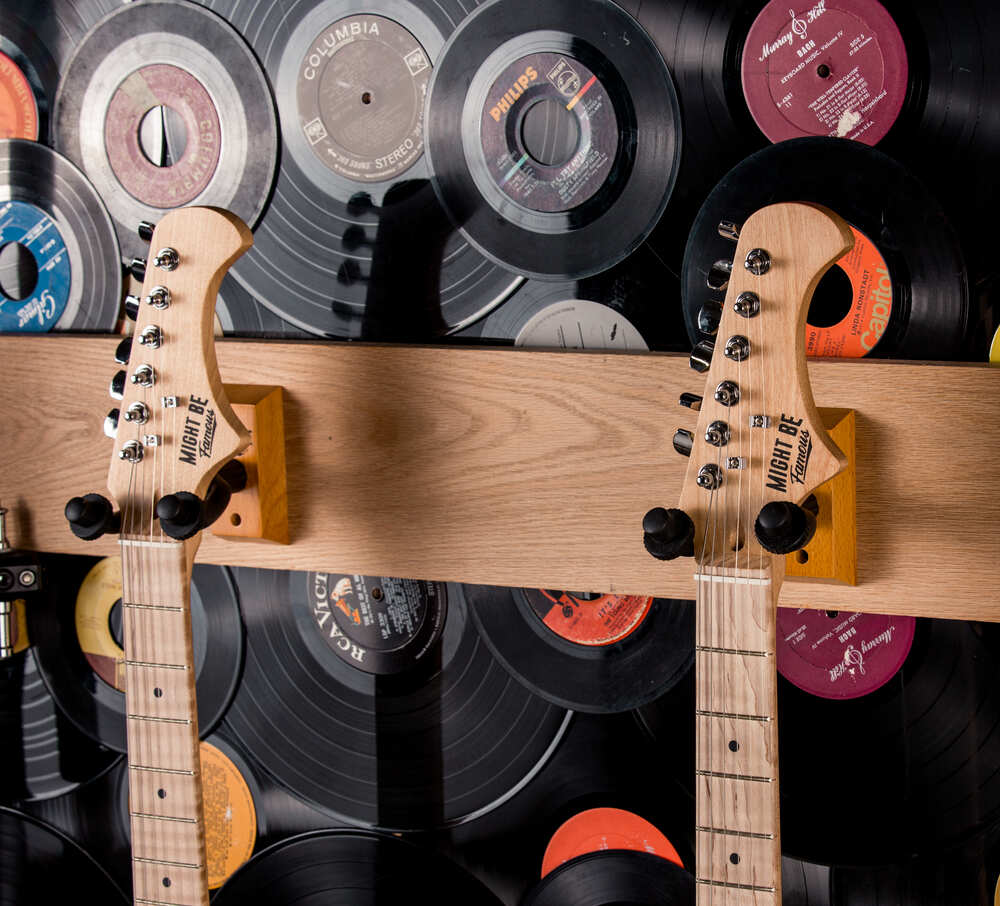 Wall Installation Instructions:
The recommended weight limit for use of this hanger is 10 lbs. or less. DO NOT REUSE TOGGLES for remounting or putting a screw in a second time. It is highly recommended that you mount the guitar wall hanger directly to a stud.
Choose location for hanger. Drive screws through mounting holes of hanger into wall using a Philips screwdriver. If a wall stud is not found do not install or use the wall hanger. The wall hanger WILL NOT hold the weight of your guitar unless it is installed on a stud.
Roll Keeper Rings onto the end of yoke arms. All yokes may be adjusted to fit any size mandolin or guitar. To adjust the yoke width, look at the area at the first fret of the instrument. Adjust the yoke so the instrument will pass freely through the opening then rest it behind the keeper rings. To wider grasp each arm of the yoke and pull apart. To narrow, put hand around the yoke arms and squeeze.
Might Be Famous is not responsible for the method in which the purchaser attaches this hanger to the wall, or the strength of the wall material it is placed on. We recommend that the finish on the neck of the guitar be fully cured before resting it in any hanger.
WARNING: Cancer and Reproductive Harm www.P65Warnings.ca.gov.